Programs and Services
Capital Plan, Road Conditions, Ring Roads, Maintenance Contracts, Road Restrictions/Bans
Grants, Traffic Safety Calendar, Traffic Safety Plan, Saferoads, Office of Traffic Safety Reports
Municipal Grants, GreenTRIP, Alberta Municipal Water/Wastewater Partnership (AMWWP)/ Water for Life
Consulting Services,†Tendering and Contracting, Opportunities, Partnering, Safety Certification
Driver Guides, Driver Licensing, School Buses and Commercial Vehicles, Distracted Driving Legislation
Commercial Vehicle Safety Regulation (CVSR), Vehicle Equipment Regulation (VER), Commercial Vehicle Out-of-Service Policy, Industry Notice
Highway Design and Construction, Highway Maintenance, Bridges, Water Management, Highway Special Events Guide
Share your memories about Highway 43 as the twinning project comes to an end

Throughout summer and fall 2014, crews will complete the final 20-kilometre stretch on Highway 43 through the Sturgeon Lake Reserve. This $78-million project completes the four-laning of Highway 43 between Grande Prairie and Edmonton. As the Highway 43 twinning project concludes, we want you to be part of this new chapter in Alberta Transportation history. Albertans are encouraged to share their stories and photos about Highway 43's past and present.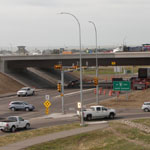 New Medicine Hat Interchange Opens
Alberta Transportation Minister Wayne Drysdale officially opened the $23 million TransCanada Highway interchange at Dunmore Road in Medicine Hat on July 31, 2014, providing safer, free-flow national highway travel while reducing congestion on local roads. The new interchange supports the Government of Alberta's commitment to improve market access across Alberta, across Canada and around the world.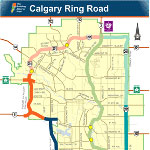 Take a look at the final leg of the Calgary Ring Road
The Government of Alberta is continuing planning for the much anticipated final section of the Calgary Ring Road. Residents can now take a closer look at the future with the release of new planning drawings of the roadway and interchanges, current aerial photos of the route and an update on next steps as the project moves closer to shovels in the ground.