2014 Minister's Award for Transportation Innovation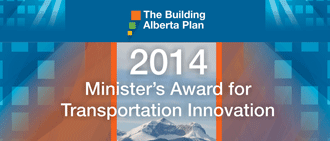 Alberta Transportation Minister Ric McIver is pleased to announce the 2014 Minister's Award for Transportation Innovation is now accepting submissions. The award is open to individuals or companies which implemented a new transportation innovation. You may nominate yourself or another innovator for the 2014 Minister's Award for Transportation Innovation to ensure these great ideas are shared and recognized.
Alberta Flood Recovery
Interactive map with flood photos and videos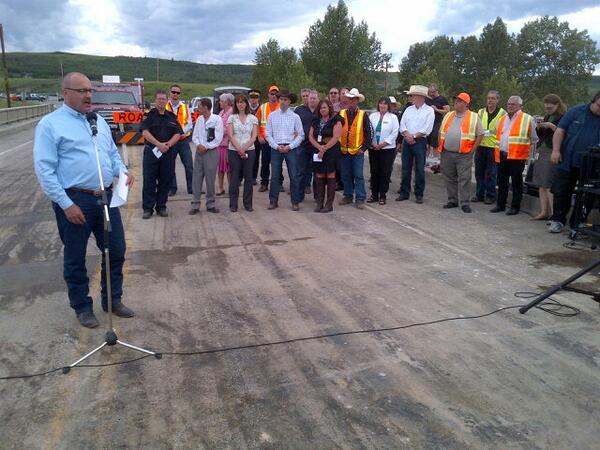 Rebuilding roads and bridges, reconnecting communities
The June 2013 floods that ravaged Southern Alberta and parts of Central Alberta have been described as the most damaging and costliest disaster in this province's history.
During the first days of the flood, Alberta Transportation staff - along with the department's Highway Maintenance Contractor - worked tirelessly to inspect all accessible provincially-managed roads and bridges to identify damage. Preliminary repairs were completed at many of those sites. Thorough engineering inspections were then undertaken to identify potential major reconstruction projects. Since then, as part of the recovery effort, government has had engineers, inspectors and consultants on the job getting flood-damaged parts of the province's highway network repaired.
View an interactive map with links to photos and videos of the flood damage and subsequent repairs to Alberta's provincial transportation network.
Reopened highways
Smith-Dorrien/Spray Lake Trail is open from junction Highway 40 to Highway 742
Hwy 1A
Hwy 734 at Ram River Bridge
Current highway closures
Powderface Trail (Dawson Equestrian Area – Junction Hwy 66)
Forestry Trunk Road (Kananaskis Improvement District) from Cataract Creek to the junction of Highway 532
Highway 532 from junction Forestry Trunk road to Johnson Creek Bridge
Highway 547 at Bow River Bridge
Ferry Closure
Crowfoot Ferry (Bow River) is docked and closed until further notice
The government also has important information for Albertans and others whose vehicles may have been damaged during flooding.
Up-to-date road information, including traffic delays and road closures, is available at 511.alberta.ca, @511Alberta or by calling 5-1-1.
Alberta Traffic Safety Plan
The Office of Traffic Safety continues to implement the Traffic Safety Plan which is aimed at reducing deaths and injuries on our roads.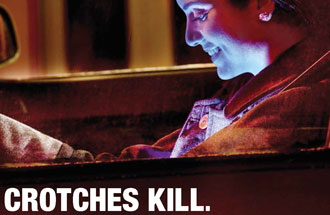 Distracted driving is a serious issue in our province. To address this concern, Alberta Transportation has developed a new advertising campaign that illustrates the dangers of texting when behind the wheel. Learn more about the
"Crotches Kill" campaign
Tsuu T'ina Chief and Alberta Government sign agreement
Alberta Premier Alison Redford, Tsuu T'ina Chief Roy Whitney and Transportation Minister Ric McIver signed a historic agreement to help pave the way to build the
Southwest Calgary Ring Road
. The signing ceremony took place on the Tsuu T'ina Nation and included dozens of dignitaries and special guests.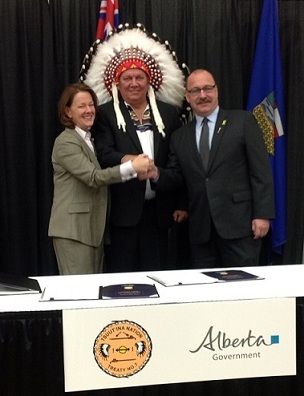 Premier Redford, Tsuu T'ina Chief Whitney and Transportation Minister McIver smile and shake hands.
Southeast Stoney Trail Opens
The Redford Government officially opened the newest section of Calgary's ring road, Southeast Stoney Trail on November 15, 2013, providing all Albertans and commercial drivers with 25 more kilometres of free flow, six-lane freeway. Adding this newest stretch of the ring road now offers travellers access to 70 kilometres of Stoney Trail from just east of Macleod Trail on the south side of Calgary around the east side of the city to Highway 1 heading toward Banff, a $1.9 billion investment in Alberta's core transportation network.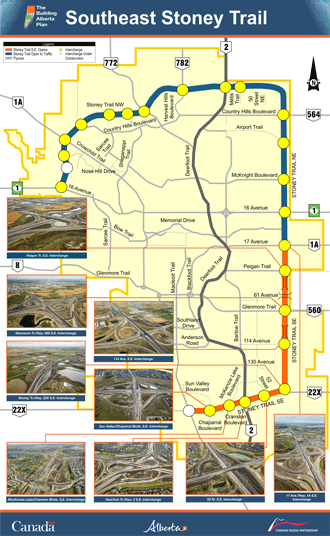 Southeast Stoney Trail open to traffic
Students learn about being safe
Students joined Transportation Minister Ric McIver at Traffic Safety Day. Law enforcement officers and other traffic safety partners guided the students through interactive stations teaching important traffic safety rules.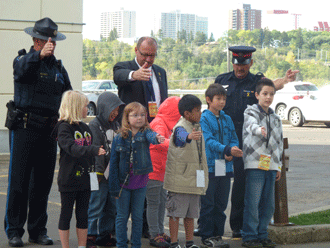 Massive twin bridges over Northeast Anthony Henday continue to take shape
Edmonton's $1.81-billion Northeast Anthony Henday continues to take shape as construction on massive twin bridges over the North Saskatchewan River, a critical link in the capital region ring road, gets underway. Alberta Transportation Minister Ric McIver spent time on site with CEO Capital City Link Group's Allan Neill outline the P3 project progress and future plans.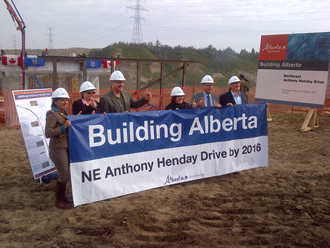 Strathcona Mayor Linda Osinchuk, Sherwood Park MLA Cathy Olesen, AB Transportation Minister Ric McIver, Fort Saskatchewan-Vegreville MLA Jacquie Fenske, Speaker of House and Edmonton-Mill Creek MLA Gene Zwozdeksy, and Edmonton-Gold Bar MLA David Dorward at the one-year update of work on NE Anthony Henday.
511 Alberta is here!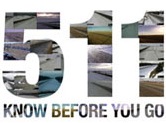 511 Alberta is the new, official provincial road reports service, available by phone, mobile device or computer. 511 provides information on highway conditions, roadwork, major incidents like detours and closures, weather alerts, availability of ferry services and wait times at border crossings. Find us on the internet at 511.Alberta.ca, by phone by calling toll free to 5-1-1 and on Twitter @511Alberta.
511 Alberta videos are available here to view.
511 Alberta photos are available here to view.
Alberta Transportation Minister Ric Mclver has also provided a personal 511 video tutorial here.
New West Partnership

Click here to access information about the New West Partnership, an agreement to enhance trade, mobility and investment.
GreenTRIP Program

Click here to learn about the GreenTRIP program which supports local and regional transit development across Alberta.
News
Last updated: Dec 06, 2013 16:06