Share your memories about Highway 43 as the twinning project comes to an end

Throughout summer and fall 2014, crews will complete the final 20-kilometre stretch on Highway 43 through the Sturgeon Lake Reserve. This $78-million project completes the four-laning of Highway 43 between Grande Prairie and Edmonton. As the Highway 43 twinning project concludes, we want you to be part of this new chapter in Alberta Transportation history. Albertans are encouraged to share their stories and photos about Highway 43's past and present.
Take a look at the final leg of the Calgary Ring Road
The Government of Alberta is continuing planning for the much anticipated final section of the Calgary Ring Road. Residents can now take a closer look at the future with the release of new planning drawings of the roadway and interchanges, current aerial photos of the route and an update on next steps as the project moves closer to shovels in the ground.
Province on board for expanding public transit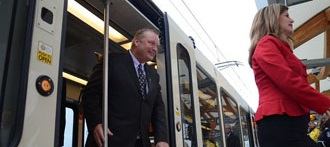 The second call for Green Transit Incentives Program (GreenTRIP) applications opened April 15, with a deadline of November 30, 2014. Read new release.
Transportation Minister Wayne Drysdale recently solidified weighty support from the province for the City of Edmonton's Valley LRT Line. Read the news release for more details.
Alberta flood recovery and mitigation
The June 2013 floods that ravaged Southern Alberta and parts of Central Alberta were the most damaging and costliest disaster in this province's history. View an interactive map with links to photos and videos of the flood damage and subsequent repairs to Alberta's provincial transportation network.
Of the 985 kilometres of provincial roads closed due to flood damage, 909 kilometres (92 per cent) have reopened, including the TransCanada Highway, which was repaired and opened just six days after the flooding began. More than 300 bridges and culverts were inspected, with approximately 120 receiving varying degrees of damage. All but one of the major bridges closed have been repaired and reopened, once again providing residents with an essential connection to family and friends, work, school and services.
The province announced $110 million over three years for flood mitigation work on transportation infrastructure damaged by the flooding and to protect other vulnerable roads and bridges throughout the province. There is also important information for Albertans and others whose vehicles may have been damaged during flooding.
New Medicine Hat Interchange Opens
Alberta Transportation Minister Wayne Drysdale officially opened the $23 million TransCanada Highway interchange at Dunmore Road in Medicine Hat on July 31, 2014, providing safer, free-flow national highway travel while reducing congestion on local roads. The new interchange supports the Government of Alberta's commitment to improve market access across Alberta, across Canada and around the world.
Budget 2014 support for rural highways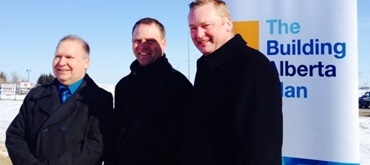 Transportation Minister Wayne Drysdale hit the road on March 24 to meet with Rimbey Mayor Rick Pankiw and Ponoka County Deputy Reeve Bryce Liddle at the start of a planned 29-kilometre rehabilitation project on Highway 53. Albertans will see more construction crews on roads and bridges as part of the Alberta government's three-year, $5 billion investment to expand and rehabilitate the provincial highway network. Read the regional news releases and view southern, central and northern Alberta project maps.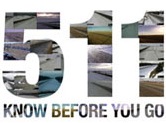 511 Alberta is the official provincial road reports service, available by phone, mobile device or computer. 511 provides information on highway conditions, roadwork, major incidents like detours and closures, weather alerts, availability of ferry services and wait times at border crossings. Find us at 511.Alberta.ca, by phone by calling toll free to 5-1-1 and on Twitter @511Alberta. Albertans are also now able to use 511 Mobile: a greatly enhanced mobile version of 511 Alberta designed for viewing on most mobile devices.
In its first year, the 511 Alberta website received close to 200 million hits from 1.2 million unique visitors who needed reliable, up-to-date road information.
Traffic Safety in Alberta
Input from traffic safety stakeholders helped to create the Alberta Traffic Safety Plan Calendar, which provides a province-wide coordinated approach that highlights priority traffic safety topics each month.

The Office of Traffic Safety continues to implement the Traffic Safety Plan which aims to reduce deaths and injuries on our roads. Distracted driving is a serious issue in our province. To address this concern, Alberta Transportation has developed an advertising campaign that illustrates the dangers of texting when behind the wheel. Learn more about the "Crotches Kill" campaign.